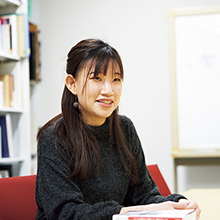 Environmental Engineering Course
Monica Irisa Clara Gondokusuma
Allow International Students to Learn and Enjoy with Peace of Mind in a Well-organized Research Environment
Researching smart communities as an international university student in Japan
I am originally from Indonesia and became interested in environmental issues such as water pollution when I was a high school student, and thus I came to Japan to study at Osaka University. Currently, as a graduate student, I am researching how charging of electric vehicles affects the power consumption of residential areas when they are introduced into a smart community. I participated in a visiting tour for studying/researching an actual smart community. In our research, simulations tend to be based on many "ideal" scenarios. However, during the tour, I personally experienced "real" situations and made use of them in my research.
Acquiring new knowledge by attending international conferences
As a graduate student, I attended not only academic meetings in Japan, but also international conferences and presented my work. When I attended an online international conference whose participants mainly come from European nations, I was able to learn the difference between the environmental issues of Japan and overseas. Although particular attention is placed on energy-saving as a whole in Japan, themes related to insulation and heating attracted the most attention in Europe with their longer winter, and I was deeply interested by the difference.
Enjoying a student-friendly environment in which international students do not feel alone
The Division of Sustainable Energy and Environmental Engineering did not only provide me with an organized environment to conduct high quality research, but also an opportunity for me as an international student to make friends with my colleagues in the laboratory and enjoy my student life. I think that Osaka University is very responsive to the academic and social-emotional needs of international students. A consultation room is available for international students in the Graduate School of Engineering in addition to other services to support exchange among them. International students can enjoy their student life with a peace of mind.